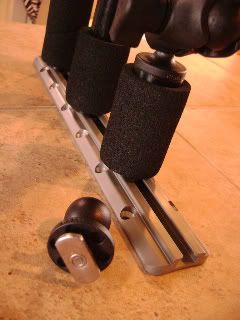 "This is going to revolutionize the way people are rigging out a kayak" That was my first thought when I picked up a peace of YakAttack's new GearTrac. It is a track system made from strong, but light weight 6000 series aluminum. I has a very attractive military grade hard coat anodized finish to protect it from the harsh elements to which it will be exposed .  The GearTrac is attached to the kayak by countersunk screws that are set on 1 ¾" centers running the length of the track on both sides. The GearTrac is offered in 4", 8", 12", and 16" lengths.
Placing the GearTrac on your kayak will allow unlimited mounting options.  Placing YakAttack's screwball to the GearTrac opens unlimited mounting options with ram mounts utilizing a ball mount.


Or by choosing the MightyMount system adapter, Scotty bases can be attached so that all Scotty brand mounts may be used.  Not only can they be mounted to the GearTrac in one place, they can quickly be loosened and slid along the length of the trac allowing them to be secured to any place on the trac.
My 12" trac will be used to secure a VISICarbon Pro and a PanFish to mount my camera. It will allow me to mount the VISICarbon Pro light at the rear of the gear track and still give me plenty of room to mount the panfish.  The panfish will be mounted to gain a vantage behind the shoulder shot to record videos. I will also be able to mount the smaller panfish portrait to get those low to the water shots. For the kayaker that wants to record himself/herself on video,  the ability to place cameras in different places on the kayak by simply sliding it into and out of the trac is going to be a great feature.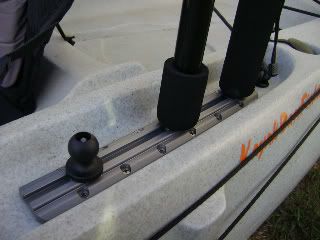 One of the best features of the GearTrac is it's low profile. When the day is done and everything is removed from the kayak the less then ½" tall GearTrac is unobtrusive and does not get in the way while loading or unloading the kayak.
To secure it to the kayak with screws is a great way to use the GearTrac. However, it certainly lends it's self for unlimited options.  In my case I wanted my PanFish portrait to be mounted  next to my  fish finder. This would allow me to get a great vantage point for my "grip and grin" shots while keeping me from drill more holes in my kayak. To allow more mobility with my fish finder and camera I mounted the trac on a double ball socket arm which attaches to a 1" ball mounted on my kayak. My camera and FF can now be moved together or independently to get angle I might wish.


With just a little imagination the GearTrac and  MightyMount systems allow you to place equipment  on your kayak just about anywhere you want.


I made a video of the installation of the GearTrac. I however had technical difficulties with one of the cameras.(I forgot to put a sd card in the forward facing camera) Anyway, I ended up with only one "overhead" view.

I also thought a short video to show the whole set up might be helpful.

In conclusion I think YakAttack had hit another home run with the release of the GearTrac. The amount mounting options are limited only to your imagination.
More information about the new GearTrac and other innovative products can be found at www.YakAttack.us
GearTrac and the complete line of YakAttack accessories are available at HOOK 1!
Shaun Russell
Russell.shaun@ymail.com
http://northtexaskayaker.blogspot.com
2 thoughts on "
Product Review: Yak Attack's "GEAR TRAC"

"
Comments are closed.